Submitted by root_admin on
Dear Sisters and Brothers of Central Pennsylvania,
It is my pleasure to announce that last week the Standing Committee voted to nominate the Right Reverend Robert Gepert, D.D. as Provisional Bishop (interim bishop) of our Diocese. The election will take place at the 2014 Diocesan Convention.  This choice has been done in consultation with the Presiding Bishop's Office and my support.  He will join us later in Lent as Assisting Bishop until the vote of Convention and will then lead the Diocese through this current discernment season and the consecration of the next Diocesan Bishop on September 12, 2015.
Bishop Gepert has ministered as a parish priest and Cathedral Dean in the Dioceses of Bethlehem, Washington and Easton (Maryland); and has served as Diocesan Bishop of Western Michigan for 11 years. He and his wife, Anne, are recently retired and are living in Lancaster, Pa.
The Standing Committee and I are presently completing final details regarding beginning dates and transition matters, including his visits around the Diocese. Such matters will be shared with you in the next few weeks.  However, I wanted you to be formally aware of this decision and to invite us all to lift up Bishop Gepert and his wife in our customary spirit of prayer and welcome.
Yours in Christ,
+Nathan
 
Biography of The Rt. Rev. Robert Gepert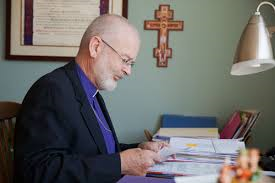 The 8th Bishop for the Episcopal Diocese of Western Michigan is the Rt. Rev. Robert R. Gepert. Bishop Gepert was born August 24, 1948 in Pittsburgh, Pa. After receiving a Bachelor of Science degree in biology from Point Park College, he taught high school (outside of Washington, D.C.) for eleven years.
A former Roman Catholic, Gepert became an Episcopalian and acted on a call to the priesthood that he had experienced since childhood. He received a Master of Divinity degree from Virginia Theological Seminary in 1985. Ordained to the priesthood in the Diocese of Washington, he served congregations there and in the Diocese of Bethlehem; later moving to the position of dean of Trinity Cathedral in the Diocese of Easton.
His educational training also includes five years studying with Dr. Edwin Friedman in family systems theory and its application to congregational life, and he has served as a "systems coach" for clergy members who desire to utilize this approach to their congregations. He received a diploma as a Fellow of Pastoral Leadership from Princeton Theological Seminary. Upon his retirement in August 2013, he and his wife Anne Labat-Gepert  retired to Lancaster, Pa.