Pocket Prayer Shawls for Those Who Have Served or Are Serving
Are you a knitter or crocheter?  Put your skills and scraps of yarn to good use, and help the Diocese send as many pocket prayer shawls as possible to those who have served or are currently serving our country.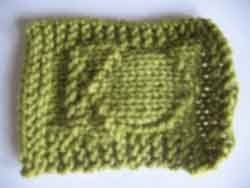 These small prayer shawls, approximately 3X5", are given to shut-ins, people in hospital, VA hospitals, active troops, etc.
For those going to active military, the yarn needs to be 100% wool or 100% cotton (check with the unit to which you are sending just to be sure) because synthetic materials can melt into the skin if the soldier comes under fire. Many soldiers who receive them wear them in their helmets.
Our Diocesan knitting/crocheting group has made hundreds of them. We add a card with this explanation with each one.
**************
"May this pocket-sized prayer shawl
made with love and infused with prayers,
be a sign of God's sustaining presence. 
May it refresh your weariness and
provide comfort in your anxiety.
May it make available to you
healing for your pain and
consolation for your loneliness.
May it bring, joy, gladness and 
brightest blessings.
"This pocket prayer shawl may be carried in a pocket, placed directly on a sick person or held while praying. In many places, the custom exists to place the prayer shawl on a special table and to place petitions on the shawl as well as pictures of our loved ones and those in need of spiritual or physical healing. Prayer shawls can be used for the dying, the ill, the aged, the lonely, the fearful, those needing healing, those grieving, for family difficulties, for special occasions, and for devotional or intercessory praying.
"We pray that the person using this shawl may receive from God the help they most need as may be best for them. We pray that he/she would be reminded that they are never alone. We pray that they find in this shawl a place of comfort and strength."
**************
Patterns for a variety of Pocket Prayer Shawls are available here.
Please contact Jeanne Zeller for instructions on where to send completed prayer shawls.